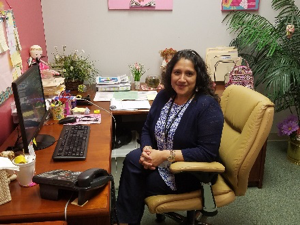 Full name: Juanita Sandria
Title: Intake Specialist
Job responsibilities:
• Assist victims of domestic violence and crime
• Conduct screenings for services and schedule intake appointments
• Refer to other agencies and services as needed
Why do you work at The Family Center?
I like helping people. Even before I starting working here I knew about the wonderful services and how the people that work here helped others. I wanted to be a part of that.
What is the biggest mistake you've ever made?
Getting married too young before I really knew who I was. I learned that you really have to know who you are and be happy with where you are in life before you get married.
What is the biggest challenge you've overcome?
Having English as my second language. Being bilingual you have to switch from one language to the next quickly depending on who you are talking to and that's not as easy as it sounds.
What is your passion?
Being able to help as many people as possible. I want to help people to be able to do more of what they want to do by spreading the word about resources available to them; especially those within the Hispanic community. I want people to know that I'm here to help any way that I can.
I also have a passion for art – both creating art and teaching others.
What is your dream for you/your child's future?
I want my children to be successful and be what they want to be. I want all children to grow up in safe communities and not with a lot of violence.