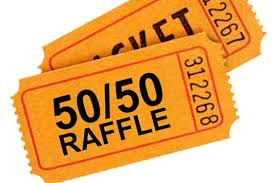 Your first step in planning a 50/50 raffle is to check your local and state laws to verify that this type of fundraiser is permitted in your area. If you have the green light, then get ready for a fundraising event idea that is fun, fast and easy. Either hold it yourself or approach community businesses—such as theaters, music venues, and sporting events that generate a lively crowd—to hold it for you. Here's what your nonprofit needs:
Raffle tickets. You can typically find these at your local party supply store. Make sure to get the kind that is double-rolled, with pairs of tickets displaying the same numbers—one to get tossed into a container for the drawing and the other for the lucky buyer to keep.
A bucket, bowl, hat, fishbowl or other large container.
Here's how it works:
Supporters purchase raffle tickets (usually $1, $5, or $10 each, or in bundled packs like five $5 tickets for a discounted price of $20).
They write their name and mobile number on the back side of the ticket they're going to toss into the drawing.
The winning ticket number is drawn after ticket sales close with the winner splitting the net proceeds 50/50 with the organization.