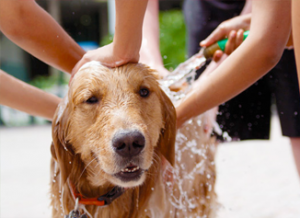 No, this fundraiser doesn't raise money by having dogs wash cars. It's all about washing cars and pooches. Many people would be willing to pay to have their car and dog cleaned.
You'll obviously want to plan for a warm and sunny day and advertise by hanging up flyers and posting on social media. Then, set up two stations: one for cars and one for dogs. Have someone be in charge of explaining the prices for each wash and collecting the money from customers.
Make sure that you explain where the funds are going during the car and dog wash and encourage more donations. People will drive off with shiny cars and fresh smelling pups, and you'll raise money for your cause!