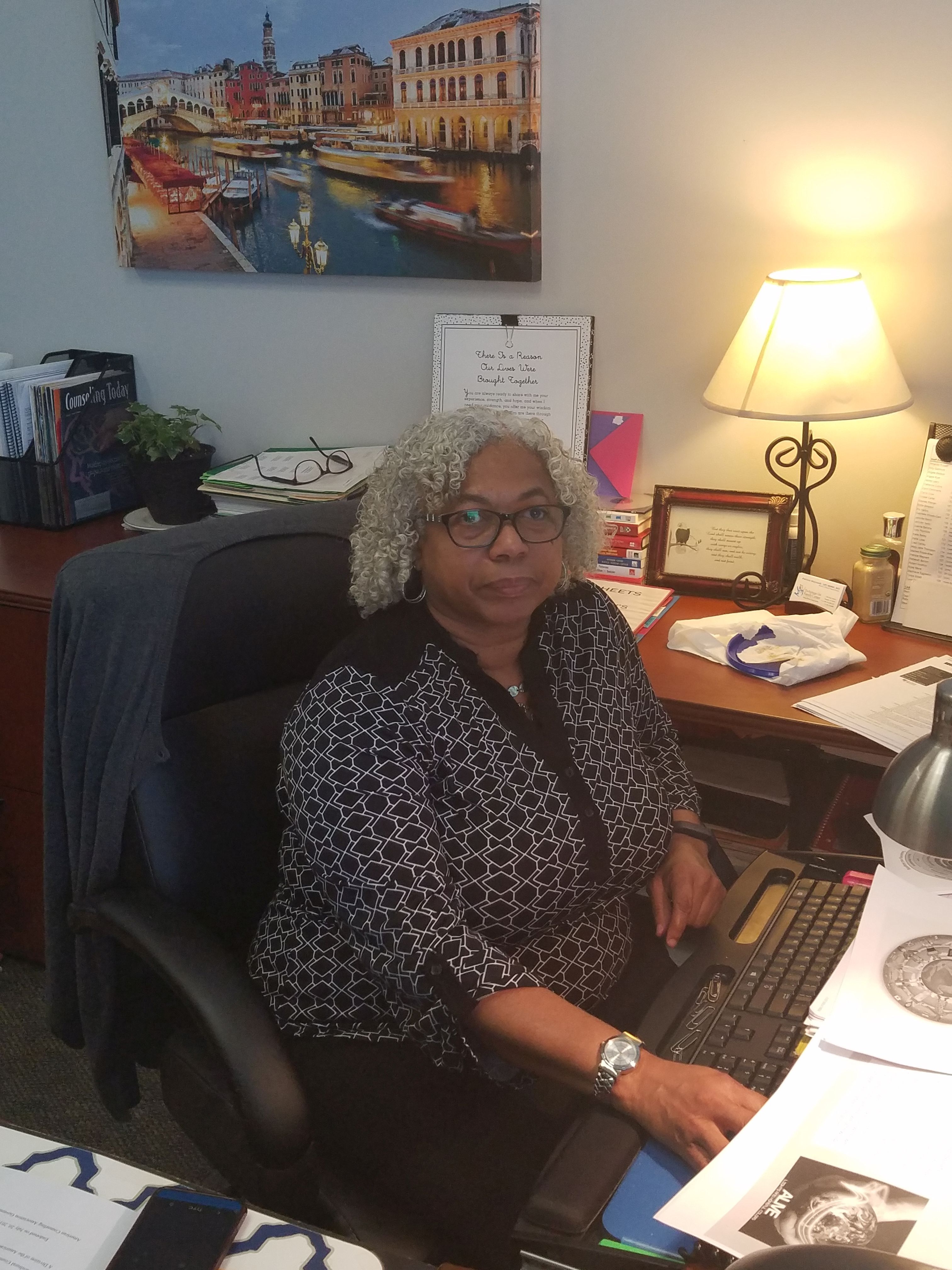 Full name: Patricia Maynard
Title: Director, Clinical Program Services
Job responsibilities:
I am responsible for the supervision and direction of the counseling/psychoeducational programs. I oversee clinicians who provide long-term therapeutic services to children and families who have experienced abuse, neglect and other traumas, in order to repair relational ruptures, gain coping skills and increase resiliency.
Why do you work at The Family Center?
It was the first place that offered me a job when I finished my training and internship. No, really, I love the mission and vision of The Family Center, knowing that we are dedicated to the community in the work that we do. I get to be part of people's transformation each and every day!!!!
What is the biggest mistake you've ever made? How did you handle it? What did you learn from it?
I learned a valuable lesson about myself when I was in college. Since I was always a leader, I was responsible for managing the "work study duties" of over 20 students. I did not always handle that role well, and it got me in trouble with those students many times. Primarily because they saw me as aligning with the school leadership, rather than with them, a fellow student. I had to learn to encourage and value their perceptions on how I operated in my duties, in order to build a strong, trusting relationship with them, as well as the student affairs faculty who I answered to. It was often a challenge, but with cooperation on both sides, I got through 4 years of college with some meaningful relationships, with students and faculty, alike.
What is the biggest challenge you've overcome?
Accepting my life and limitations growing up with the loss of my left eye. All through my school years, I was called "pirate" because I did not wear a prosthetic eye until after graduating from high school. How I saw myself was first shaped by how my family and others saw me, and luckily for me, I had a strong sense of self because of my family and how they handled my defective left eye. I saw myself as beautiful, and did not let myself be defined by any criticisms or nicknames I might have been called.
What is your passion?
There are several things that I am fiercely passionate about, and that drives me to be the person that I am. I am driven by the pursuit of excellence and the "something" that makes life meaningful. For me, it is God and serving him in every aspect of my life and work. I am passionate about making a difference in people's lives, I am passionate about sports, and I am passionate about family and relationships. These all make me who I am as a person, and I am truly thankful for the grace that guides my life.
What is your dream for you/your child's future?
For my future, financial independence, and one thing on my "bucket list" is to get the opportunity to go to the US Open or Wimbledon (Tennis) before Roger Federer retires from the sport.
What inspired you to be a therapist?
I truly believe that this field is my chosen career. I have been blessed with a strong desire to help people find a "path" in their journey of life that makes them realize their full potential. I am amazed that people choose to trust me with their deepest pain, and I hope that in some way, I help them navigate a better course for their life. I see being a therapist as a "calling," and I am dedicated to being the best that I can be.
If you could have dinner with one person, past or present, who would it be and why?
Roger Federer: He is a person dedicated to his craft, and he brings such pleasure to his millions of fans. I have been an avid fan since I first watched him play a tennis match in the 90s, and I have followed his career since his very first Wimbledon championship. He conducts himself with such class and grace that speaks of a great family life, and he seems dedicated to his wife and children. I like that in all the years of following his career as a professional athlete, there has been no scandal attached to his name or character. He is my all-time favorite professional sportsman.
How would you describe the color yellow to someone who is blind?
It's the color of happiness, and optimism, of enlightenment and creativity, sunshine and spring. It is the color of the sun, and we can feel the sun's warmth. It is sometimes a color of joy - cartoon drawings of the sun usually contain a smile. Yellow is also the color of caution, like when you are driving and the light turns yellow. When this happens, it prepares the driver to slow down, and get ready to stop. It is usually considered bright. In the world of music, it might relate to a high note.
If you weren't a therapist, what career would you choose and why?
As a teenager, I always thought that I would either be a therapist or a missionary when I got older. In a way, I am both. When I first graduated from college, I went to seminary and graduated with a Master's in Christian Education and worked in the Missions Department at Bellevue for 8 years. While there, I went back to school and got my second Master's degree in Marriage and Family Therapy, and the rest, they say, is history.
What is your personal mantra/motto?
Loving God, loving people, to act justly, and to love mercy, and to walk humbly with God [Micah 6:8].
What are three things that each of us could do to prevent abuse and family violence?
1. Handle relationship conflict in healthy ways.
2. Find healthier ways to cope with life stressors and frustrations.
3. Stop the silence by speaking out against anything or anyone that engages in child abuse & family violence.